Take yourself higher & get hired!
Cities are booming and multi-family development is a huge part of that world. Property management services are in high demand and so are administrators who are specialized in this field. This program will prepare graduates of the college with courses that cover office procedures such as time management, researching, summarizing and preparing to work effectively; with proficient communication skills that will teach useful techniques to write clearly, concisely and professionally.
The wide range of topics will cover many aspects of running a property management / administration office including: computer software applications (Word, Excel, PowerPoint, Outlook), property management, business law, marketing, bookkeeping, human resources, correspondence and computerized accounting (Simply Accounting).
Career Opportunities
Property Administrator
Accommodation Officer
Property Leasing Coordinator
Property Rentals Manager
Apartment Rental Agent
Housing Project Manager
Commercial
Property Manager
Building Managing Supervisor
Property Acquisitions Area Manager
Property Section Head
Leasing and Development Officer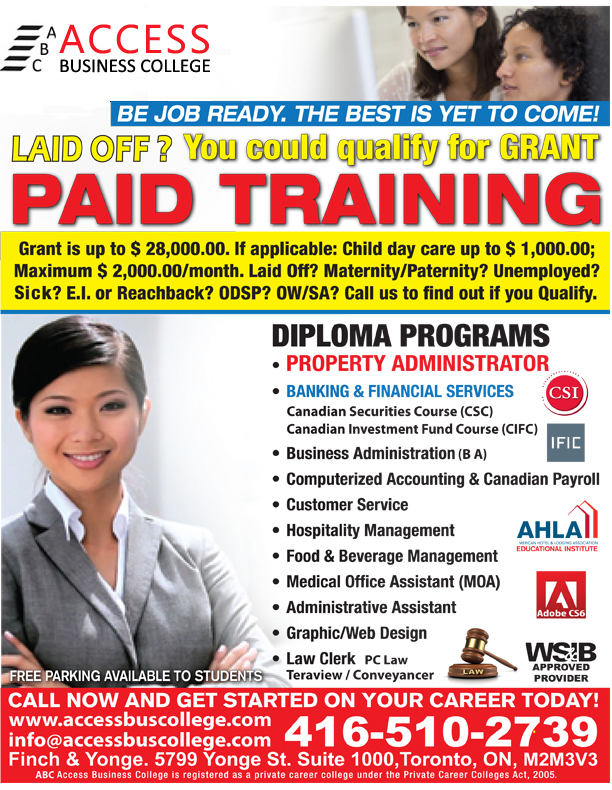 About Access Business College
Graduates of Access Business College have the skills and education to compete for prime employment positions. We prepare graduates for a career in their chosen field of study with the right amount of career training. 
Access Business College has helped many graduates transform their lives with long-term employable skills.
*This Diploma is approved as vocational programs under the Private Career Colleges Act, 2005
OUR LICENSING AGREEMENTS




REQUEST FORM