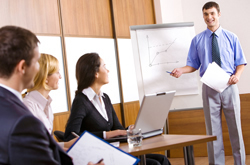 Centre for Education & Training is pleased to assist employers with their Canada-Ontario Job Grant (COJG) applications.
The COJG provides direct financial support for employers - small, medium and large businesses to deliver short –term training to existing and new employees. This grant program allows employers to choose both the training that meets their workforce development needs and  the individuals to be trained.
COJG is a shared investment between employers and the government. Up to $10,000 grant per person trained may be available to employers to re-skill employees in Ontario and bridging skills gaps.
Most Popular Courses
Canadian Insurance Course (CIC - LLQP)
Canadian Investment Funds Course (CIFC)
Canadian Securities Course (CSC)
Conveyancer and Teraview
Microsoft Excel (level 1 & 2)
PC Law
QuickBooks (level 1 & 2)
Sage 300, formerly Simply Accounting (level 1 & 2 )      
Additional Corporate Courses
ACCPAC - For Windows. GL, A/P, A/R
Administrative Procedures for Canadian Office
Adobe Dreamweaver
Adobe Fireworks
Adobe Flash
Adobe Illustrator
Adobe InDesign
Adobe Photoshop
Bar and Beverage Management
Business Communications
Business Law
Clinical Skills and Procedures
Corporate Law
CPR and First Aid Certifications
Customer Service
Family Law
Food Safety: The HACCP Process
Hospitality and Tourism Marketing
Hospitality Facilities Management and Design
Hospitality Today: An Introduction
HTML
Human Resources
Interpersonal Skills, Communication, Problem
Introduction to Medical Office Assisting
Keyboarding
Legal Communication
Legal Office Procedures and Terminology
Legal Research
Litigation
Managing Front Office Operations
Managing Hospitality Human Resources
Managing Housekeeping Operations
Managing Service in Food and Beverage
Managing Technology in Hospitality
Marketing
Medical Billing & Coding
Medical Machine Transcription
Medical Terminology, Body Systems, Disease
Microsoft Access
Microsoft Outlook
Microsoft PowerPoint
Microsoft Word
Office Procedures
Payroll Compliance Legislation (from CPA)
Payroll Fundamentals I (from CPA)
Payroll Fundamentals II (from CPA)
Planning and Control for Food and Beverage
Principles of Accounting
Property Management
Purchasing for Food Service Operations
Real Estate Law
Resume Writing & Job Search
Security and Loss Prevention Management
Solving and Client Services
Supervision in the Hospitality Industry
Training and Development for Hospitality
Wills and Estates
Windows - Internet
CONTACT FORM
OUR LICENSING AGREEMENTS