graduate students testimonials

I had a fantastic experience at Access Business College. 
The core of professional instructors delivers relevant education for the workplace. The Microsoft training alone, for example, is something I lean on at my new job every day. Resume construction assistance helped me to gain employment quickly. Over the life of the program, I have learned a great deal about myself, my peers, the workplace and future employment potential in a new field.
If you are pursuing a Second Career Diploma or upgrades to professional education, I highly recommend attending Access Business College. I have benefited directly from attending this school.
Thank you Sonia, Berj, Isaac and staff at Access business College for providing the foundation for my new career in Real Estate.
Colin Finkeldey
---
Some things will always be special...
the happiness of the holidays,
warm memories of the season,
and thoughts of very special people- like you.
HAVE a BEAUTIFUL SEASON
Each time you learn something new you gain more knowledge and with more knowledge come more confidence.
Learning helps us to be more adaptable and flexible to new situations.
Learning encourages us to be more creative and innovative in our thinking and we are therefore more comfortable with the unknown.
THANKS A LOT SONIA, BERJ, PETER, ISAAC, DAVID
My Pleasure
NAHID

Business Administration Graduate
---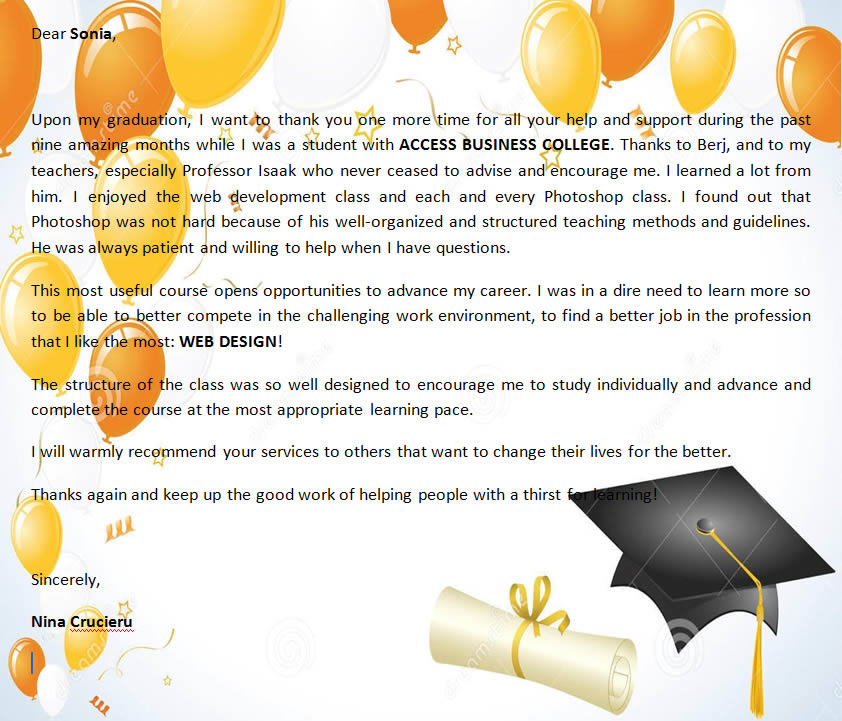 Graphic and Web Design Graduate
---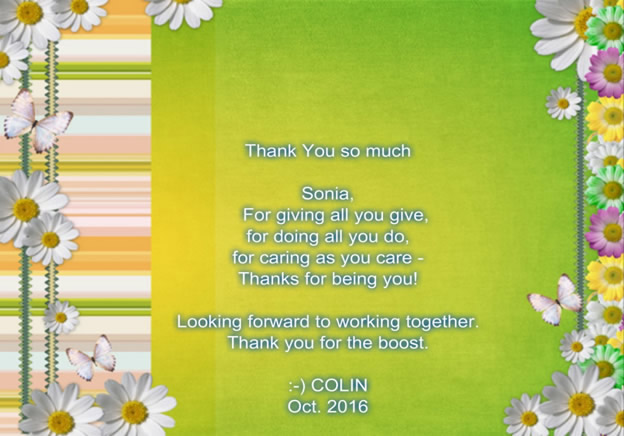 Property Administrator Graduate
---
Dear Sonia, Berj and Teachers;
Many thanks to all of you for all what you have done for us, and all what you have prepared for your students to help them to learn and to have a lovely environment where they can enjoy their time in learning and socializing.
It was really amazing to have that community where everyone is helping others as much as possible and create a real strong friendship.
I did not expect to find all that but for sure this is a changing point in my life.
Thank you again and wish you all success in your career and your life.
Thank you again and again!
Adel Gorguy
Nov. 4, 2016
Property Administrator Graduate
---
My Dear Sonia,
You never gave up!!!
Thank you for your calls, for your words and especially your kindness.
After 5 years that I contacted you, finally I AM Here.
Again we learned that It is Not in Our Time, It is In GOD's Time.
THIS IS THE PERFECT TIME!!
THANK YOU
Ruth Myriam
September 6, 2016
---
My ever dearest Sonia, great teachers and friendly students;
I am very grateful I was surrounded by wonderful, smart and intelligent people who give me so much experience, skills and knowledge to wrap and mold me to become more stronger and educated individual to face my career.
I don't have enough space to express how thankful I am and how much I was blessed to have this college like a family to me.
I will for sure miss every moment I was here. I thank you once again for being one of the students of ABC Access Business College.
I will be forever grateful with your kindness and thoughtfulness!
Thank you so much!
Jasmin Raqueno
---
Sonia,
It's sometimes easy to forget that there are nice people out there doing nice things for others.
THANKS for being such a special reminder.
Thank you
Vlad
---
I want to express my sincere thanks to all the teachers and staff for all your help and support to help me succeed in ABC Access Business College.
It was a wonderful experience for me and I enjoyed each and every class and teacher.
I had an amazing learning experience!
For you're among the nicest people I have ever known,
And you'll never be forgotten for the thoughtfulness you've shown.
THANKS for Everything
Nelya Tsilo
03/06/16
---
Thank you for everything.
I would not have gotten this far without your inspiration.
Your belief made my determinations even greater.
Thank You so much
Love,
Lorraine
---
May 20, 2016
Sonia, Berj, Isaac:
A special note of appreciation to let you know how much your kindness has meant.
Thank You for ALL your KINDNESS, SUPPORT and UNDERSTANDING.
I'LL BE MISSING YOU ALL!!!
I LOVE YOU ALL!!!
Merlene Paguio
---
Dear SONIA,
I have always felt that I was so lucky to be a student at ABC Access Business College and not any other school. The thing I admire most about ABC Access Business College is the support I received from everyone at the college. I wouldn't have achieved without that caring environment.
Thank You!
Abdullah
From: Saudi Arabia
---
Dear Sonia, Isaac, Peter, David and Berj,
Please accept this card as a big thank you for providing me all the knowledge I need to be able to face my future.
Sincerely,
Fina
---
To Sonia,
I just want to write to you personally to say how much I appreciate to be a student at ABC Access Business College.
I have always valued the happy relationship that existed during my 7 months with ABC Access Business College and shall to my best to maintain it.
Believe me, it was a great pleasure to be a student at ABC Access Business College.
Zahir
---
Dear Sonia,
Your thoughtfulness was special and very timely too.
How good it is to know people such as you.
The most sincere and heart-felt THANK YOU with the support, guidance and precious life lessons.
I will always keep you in my heart!
Nina
---
Hello Sonia, Berj, teachers and students
I want to thank you all for this wonderful experience. Thank you for your help and support. Thank you for the skills and knowledge that empower me for my new career.
It is a blessing to be in ABC Access Business College and to meet all these intelligent, smart and wonderful people.
I will miss you all and I wish you all a big success.
Thank You!
Manou Bahramian
October 28, 2016
REQUEST FORM
OUR LICENSING AGREEMENTS